Archives Experience Newsletter - March 29, 2022
Leaders of the Band
The Joy of Music
Never Be Sharp. Never Be Flat. Always Be Natural. That saying is forever etched in my brain because it sat on a placard atop the piano where I took lessons every week for years. This part dad joke and part music insider's joke never made me laugh because I tended to stare at it while I was lectured about misplaying notes or not having practiced enough during the previous week.
But when I was reminded a few weeks ago that March is "Music in Our Schools Month," I immediately thought about my favorite music teachers over the years. At the top of the list is my mom, a 40-year veteran elementary school music teacher. She passed along a strong music gene that had me playing four instruments at one point in life (although not all at the same time!). She brought endless ideas on how to spark a lifelong curiosity in music.
Music is found throughout the National Archives. Many may know the famous sound recordings and motion pictures across the decades, but it's the letters from the Revolution, Civil War, and Vietnam to light-hearted moments by familiar elected officials that surprise us. The history of our nation has an incredible score.
In this issue, we're highlighting Presidents who took their music education all the way into the Oval Office with tuneful images and records from the Archives.

Patrick Madden
Executive Director
National Archives Foundation
PS – Q: What do you call ten bassoons at the bottom of the ocean? A: A good start. Q: What do a flute and a lawsuit have in common? A: Everyone is relieved when the case is closed. Trust me, I've got a million of them.
---
Tickling the Ivories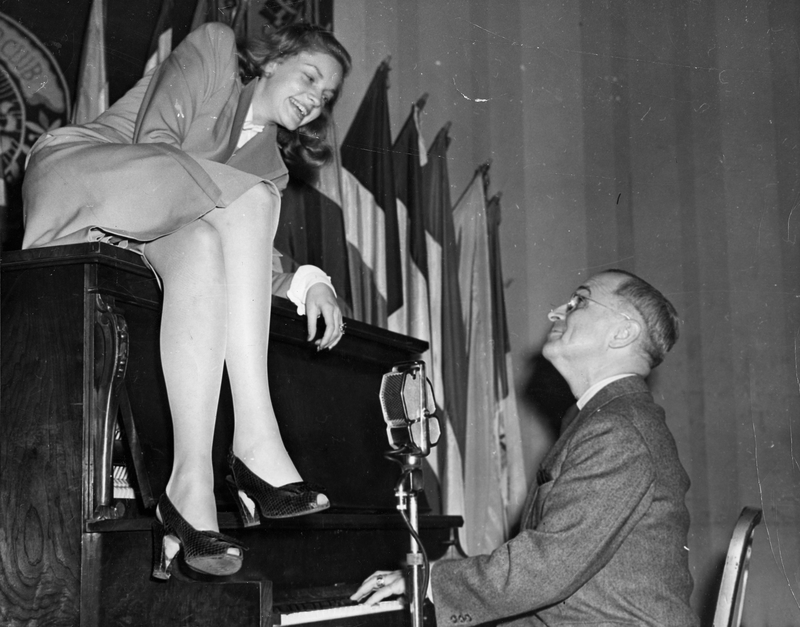 The thirty-fourth President of the United States, Harry S. Truman was a lifelong piano player who, as a boy, had risen at five every morning to practice. He enjoyed playing the instrument for the rest of his life.
When he became Franklin Delano Roosevelt's Vice President, Truman often attended events on behalf of U.S. troops. He got himself into hot water in February 1945, when he entertained servicemen by playing the piano at the National Press Club Canteen and actress Lauren Bacall climbed atop the instrument. His wife, Bess Truman, was not amused.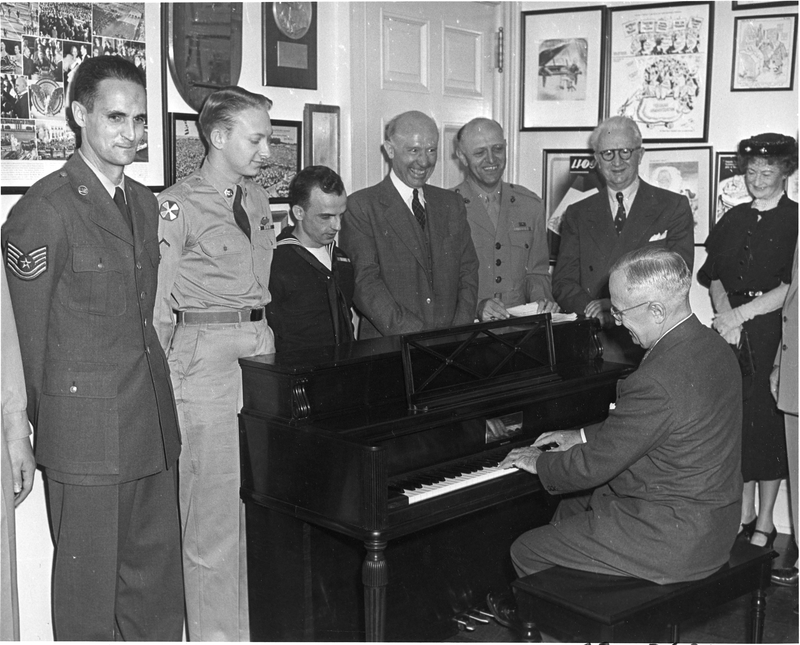 Still, Harry Truman continued to play whenever he got the chance. In this photo, he is playing an instrument that the Piano Manufacturers Association presented to him at the White House in honor of National Music Week.
President Richard Nixon was many things to many people, but one thing few people remember about him is that he played five musical instruments—the saxophone, the violin, the clarinet, the accordion, and the piano. The latter was the instrument he played most often. He practiced it steadily throughout his childhood, and by adulthood, he played very well. He even composed a piano concerto. He played "My Wild Irish Rose" in honor of his wife Pat at the Grand Ole Opry, and at the White House, he played "Happy Birthday" for Duke Ellington at the White House. He also accompanied Pearl Bailey at the White House. Not bad for a guy who never learned to read music!
---
The Family Band
Several Presidents have played the violin, but undoubtedly the best-known is Thomas Jefferson, who studied the instrument from a young age. When he entered the College of William & Mary at Williamsburg, Virginia, at the age of sixteen, he spent much of his first year going to parties and spending too much money, but in his second year, he buckled down, studying fifteen hours a day and concentrating on his French, Greek, and violin studies.
I have began a beautiful tune with balbastre, done a very pretty landskip with Pariseau, a little man playing on the violin, and began another beautiful landskape.

Read the full letter to Thomas Jefferson from Martha Jefferson, 8 [March] 1787
Source: NARA's Founders Online
Jefferson continued to study and play the violin well into his old age, and he insisted that his daughters and granddaughters study music as well. Many years later, in 1820, he told his friend John Dix, "I wish I had learned to play on the harpsichord, as my fingers are too stiff for the violin, for in that case I might have amused myself in my old age." Perhaps when he said that, he was remembering Martha, who was quite a proficient harpsichord player.
Read the full entry in John A. Dix's Memoir of his Monticello Visit, 19 February 1820
Source: NARA's Founders Online
---
Candidate Jam Session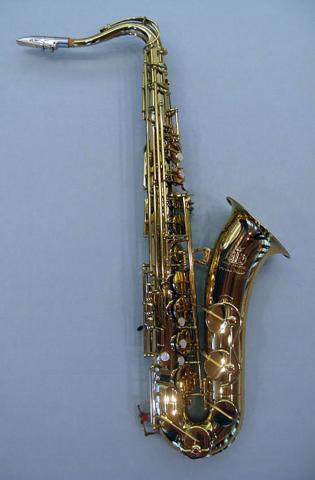 In June 1992, William Jefferson Clinton was running for President against incumbent President George H. W. Bush and independent Ross Perot. He was an upstart, a newcomer, and he needed to set himself apart from the other two candidates, so he and his team booked an appearance on The Arsenio Hall Show, a talk show hosted by the namesake actor, comedian, writer, and producer. Hall's show appealed to the young people that Clinton wanted to attract to the polls.
On the night of June 3, 1992, when Arsenio Hall took the stage, on the bandstand to his right stood candidate Bill Clinton, wearing a bright yellow and blue tie and wraparound Ray-Ban Wayfarers and clutching his tenor saxophone. Backed by Hall's band, Clinton launched into "Heartbreak Hotel." His performance and his conversation thereafter with Hall immediately recast Clinton as a cool, hip, wise candidate who spoke to the issues that young people were concerned about. Despite complaints from the press and other politicians that Clinton's appearance was "not Presidential," that moment changed the way political campaigns would be run for good. And the Clinton campaign definitely succeeded in attracting new voters, most notably young voters, to the polls in the fall of 1992, when Clinton soundly defeated both Bush and Perot.
When he got to the White House, Clinton added a music room in the private residence.
---
Practice Makes Perfect
"Drizzling, misty weather all day. Did not stir out of the house. Amused myself with reading, writing, and taking lessons on the flute; which I have lately begun to learn."
John Quincy Adams wrote in his diary on April 19, 1786
This might not seem like an unusual notation, except perhaps that Adams was already nineteen when he began studying the flute—a little older, perhaps, than most beginning musicians.
Born on July 11, 1767, John Quincy Adams was one of our most accomplished Presidents. He was exceptionally well educated, having traveled with his father, John Adams, for several years in Europe on diplomatic missions while he was still quite a young man. At the age of fourteen, he accompanied diplomat Francis Dana to Russian, returning to England with his father in 1783 and then to the United States in 1785 to complete his education. He graduated from Harvard University and then opened his own law practice. He is reported to have spoken eight languages.
And throughout his life, he recorded in the diary that he kept until just before his death in 1848 that he continued to practice the flute and play it to entertain his guests. In a time when people had to depend on themselves for entertainment, John Quincy Adams was prepared to rise to the task.
Track the progress of his flute lessons here:
Receives a new flute as a gift from a friend
"No reciting this morning. Cranch went to Boston, bought me a flute. We had a Lecture from Mr. Williams, upon Motion proceeding from Gravity. Williams, the Professor's son, made tea for the Club; I was a great part of the Evening, taking off, extracts from the morning Lecture."
5 April 1786
Becomes skilled enough to play with friends
"Mr. Cranch went to Boston. Miss P. Storer, N. Quincy and B. Apthorp, pass'd the afternoon, we play'd on the flute, on the harpsichord, and sung. There is always some fine music of one kind or another, going forward in this House. Betsey, and Miss Hiller finger the harpsichord Billy scrapes the Violin, Charles and myself blow the flute. Parson Wibird, was here all the evening."
17 July 1786
Does an hour-long performance at a friend's home 
"A number of us spent the evening at Dr. Swett's. I play'd on the flute, an hour or so."
29 February 1788
---
Killer Pipes
President Barack Obama didn't play an instrument, but he is musical, nevertheless. On several occasions, he has burst into song, to the delight of his audience. At a campaign stop at the famous Apollo Theater in Harlem, New York, on January 19, 2021, he acknowledged that famed soul singer the Reverend Al Green was in the audience. He then sang the first line of one of Green's greatest hits, "Let's Stay Together": "I am so in love with you. . . ."
A month later, on February 22, the President and Mrs. Obama hosted a night of blues music at the White House. As the all-star group, which included B. B. King, Mick Jagger, Keb Mo, Jeff Beck, and Trombone Shorty, took the stage for the finale, the President joined them and sang a few lines of "Sweet Home Chicago."
---