Archives Experience Newsletter - July 13, 2021
Gone Fishin'
As a kid when I heard the president and the first family were going on vacation or to Camp David, I always envisioned a sign hanging on the Oval Office doorknob – "Gone Fishin'." I have no recollection of why I had this stuck in my head or if any of the presidents of my youth were wild about fishing. (To be fair, Jimmy Carter did go fishing there.)
This week, we explore Shangri-la, or, as it is now better known, Camp David. Presidents use it as an escape from the White House and the pressures of the office (and the White House press corps), but they have also found it a useful place for focusing dignitaries and visitors on the conversation at hand. When you have your helicopter ready on the back lawn, Camp David is just a 30-minute ride away.
Whether it is R&R or delicate negotiations, this retreat has more than a few historic stories that can be found in the Archives.
🎣


Patrick Madden
Executive Director
National Archives Foundation
P.S. Thank you to our eagle-eye readers who caught my inadvertent edit to FDR's speech following Pearl Harbor in last week's newsletter. I mistakenly quoted FDR as saying that December 7th was "…a day which will live in infamy…" The correct quote is "…a date which will live in infamy…" We always want to get the history correct, so keep reading and keep us honest!
---
So, Who's David?
In 1942, at the height of World War II, President Franklin Delano Roosevelt told National Park Service Director Newton Drury to find a place in the country where the president could go to relax. He needed it to be close enough to Washington, D.C., that he could return to the White House on short notice.
Drury tapped one of his assistants, Conrad Wirth, to help him. They reviewed several prospective sites and then chose Camp Hi-Catoctin in Frederick County, Maryland, a camp that was built by the Works Progress Administration as a retreat for federal employees. When he saw the camp, Roosevelt was very pleased and told Drury to proceed with plans and estimates. After work on the camp was completed, Roosevelt christened it "Shangri-La," after the idyllic Himalayan land in James Hilton's 1933 novel Lost Horizon.
When he became president, Dwight D. Eisenhower wanted to close Shangri-La, but after he saw it, he changed his mind. He also changed the name of the camp to "Camp David," after his grandson David Eisenhower.
Some of Ike's political opponents were not amused by the change. Representative Michael J. Kirwan of Ohio stated that renaming the camp was the only thing the "Eisenhower Administration accomplished without Democratic help" during the new president's first year in office. But although some advocated changing the name back to "Shangri-La" after Eisenhower left office, President Kennedy insisted that it continue to be called "Camp David." It is a quiet country setting that offers presidents a chance to relax, host private dinners and family get-togethers, and negotiate with foreign dignitaries.
---
Codename: Trident
In addition to their professional relationship as leaders of the United States and Great Britain, Franklin Delano Roosevelt and Winston Churchill were great friends. During World War II, they collaborated frequently on the war effort, usually in conjunction with Joseph Stalin, the premier of the Soviet Union. In May of 1943, however, Churchill came to Washington to consult alone with Roosevelt about several big issues. He stayed for nearly two weeks, meeting with the president regularly and discussing how to defeat Italy, organize the Normandy invasions, and coordinate the war in the Pacific.
The Third Washington Conference (code name: Trident Conference) was intense and grueling. But of course, nobody can work nonstop for days on end. Despite the seriousness of the international situation, Roosevelt managed to get Churchill out to Shangri-La for some relaxation, where the two friends spent some time fishing.
A transcript of the Trident Conference is in the holdings of the Dwight D. Eisenhower Presidential Library, Museum & Boyhood Home, an affiliate of the National Archives, in Abilene, Kansas.
---
Peace (and Quiet)
Like Eisenhower before him, Jimmy Carter planned to close Camp David to save money, but like Ike, he was entranced when he saw the presidential retreat. Isolated in the Maryland countryside, Camp David turned out to be the perfect place for the negotiations that resulted in the Camp David Accords, a historic set of agreements between Egyptian President Anwar Sadat and Israeli Prime Minister Menachem Begin that stabilized relations between their two countries. President Jimmy Carter brokered the deal, mediating the conversations and helping the two leaders work out the accords over thirteen days of secret talks. Sadat and Begin signed the Camp David Accords on September 17, 1978. At a time when many people believed peace in the Middle East was an impossible dream, the accords were an unexpected ray of hope.
The Jimmy Carter Presidential Library and Museum, an affiliate of the National Archives, is the repository of extensive documentation of the Camp David Accords, including an examination of the accords after twenty-five years.
---

Presidential Summer Camp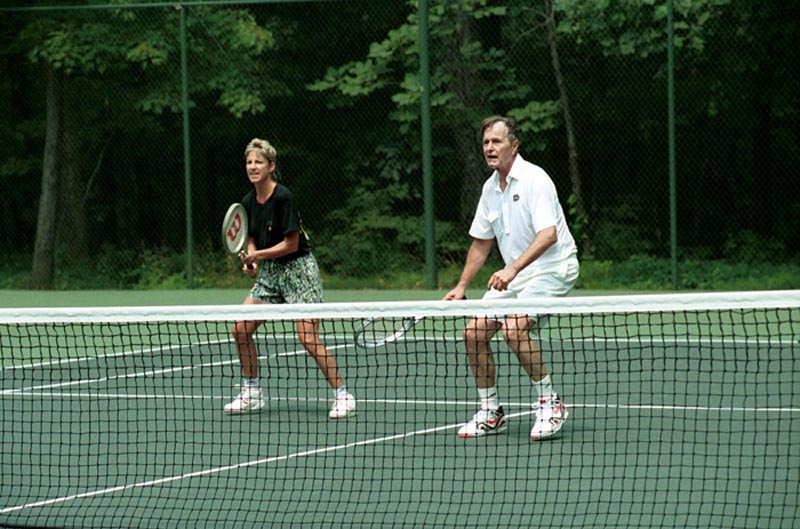 Presidents go to Camp David to recharge. From the relaxing to the strenuous, dozens of activities are available to them there. Dwight D. Eisenhower played golf with his son, John Eisenhower, and his grandson, David, and Scrabble with his wife, Mamie, at Camp David. John F. Kennedy and his family used the retreat often, frequently taking walks beside daughter Caroline as she rode her pony Macaroni on the trails. Ronald Reagan also went horseback riding at Camp David, albeit on a much larger steed.
George H. W. Bush played tennis there. Dog walking has also been a popular pastime. Here are Gerald and Betty Ford and Susan with their dog Liberty, and Richard and Pat Nixon with their dogs Pasha, Vicky, and King Timahoe. And President Barack Obama played basketball with his senior staff there.
---
✨Glamp✨ David
Camp David started out as a WPA camp for federal employees, but after FDR chose it as the presidential country get-away, the presidents kept making changes to the grounds and the accommodations. Harry S. Truman added heat to the cabins. Dwight David Eisenhower built a helipad so he could fly in from the White House. Richard M. Nixon built a heated swimming pool. And Ronald Reagan planned to build a non-denominational chapel, which was completed during George H. W. Bush's presidency.
---
---