Archives Experience Newsletter - November 16, 2021
Historic Achievements
Each year (unless there is a global pandemic), the National Archives hosts the Records of Achievement Award Ceremony and Gala. This award is the Foundation's highest honor recognizing an individual or individuals who have made American history and the stories found in the National Archives more accessible. Our past honorees include Ron Chernow, Thomas Kail, and Lin-Manuel Miranda of Hamilton fame on Broadway; Tom Hanks, whose portrayals of notable figures in history have transported viewers to a different time; Cokie Roberts, noted journalist and historian who always reminded us to "remember the ladies," highlighting the untold stories of women's contributions to our nation's history; and many other luminaries who have spent their careers uncovering, revealing, exposing, and thoughtfully analyzing our nation's past.
Meacham brings his subjects to life and allows readers a deep dive into the inner worlds of our nation's most prominent figures. His subjects range from biopics of specific figures like Andrew Jackson in American Lion to weaving together complex and competing narratives of American history in The Soul of America. No matter the subject, each of his works leaves readers with a deeper understanding and appreciation for our shared story.
This week, we're giving you a flavor of Meacham's subjects from the Archives records while inviting you to celebrate with us by offering some fun facts about our annual gala event. Join us in raising a glass to our awardee!

Patrick Madden
Executive Director
National Archives Foundation
---
Hostess and Historian
Dolley Madison, née Dolley Payne, was the wife of James Madison, the fourth U.S. President. She was born in North Carolina in 1768 to John Payne, Jr., and Mary Coles, and was brought up in a strict Quaker household. The family moved to Virginia in 1769 and then to Philadelphia when Dolley was fifteen, where her father started a starch business. In 1790, she married John Todd, a lawyer. Just three years later, Dolley lost her husband, her mother-in-law, her father-in-law, and her son William during a yellow fever epidemic.
In the spring of 1794, Aaron Burr introduced Dolley to James Madison, a politician from Virginia who was seventeen years her senior. They married in August of that year. Although James Madison retired from politics in 1797 and took his bride back to Montpelier, his plantation in Orange County, Virginia, he came out of retirement to serve as Thomas Jefferson's Secretary of State in 1800. He moved the family to Washington, where Dolley set about entertaining politicians and diplomats at their house on F Street.
Dolley Madison was already famous as a hostess when she and her husband moved into the White House in 1801. She had sometimes acted as hostess for Thomas Jefferson while he was President because he was a widower. But in a break from Jefferson's practices, Dolley routinely invited members of all political parties to the same White House functions. Some historians credit Dolley with creating the spirit of bipartisanship in the capital.
When the British were marching on Washington, D.C., in 1814, Dolley instructed her enslaved servants to take the copy of Gilbert Stuart's Lansdowne portrait of George Washington off the walls of the White House and spirit it away for safekeeping. She and her servants fled to Georgetown and then to Virginia. The British set fire to the White House, so when Dolley and the President returned to Washington, they lived in the Octagon House at 1799 New York Avenue NW until the Presidential residence was repaired.
After his second term ended, James Madison returned with his family to Montpelier, where he died in 1836. A year later, Dolley moved back to Washington with her sister. In 1848, the Committee of Arrangements of the Washington National Monument invited Dolley Madison to attend the ceremony for the laying of the cornerstone of the monument, and she accepted.
Jon Meacham is currently working on a new book about Dolley Payne Madison. At tomorrow night's Gala, he will be presented with a facsimile of the letter that Dolley wrote accepting the invitation to attend the laying of the cornerstone of the Washington Monument.
---
Renaissance Man
Thomas Jefferson was a Renaissance man in every sense of the word. Of course, he was a statesman—author of the Declaration of Independence, Governor of Virginia, Secretary of State, second Vice President, and third President of the United States. But at his home, Monticello, outside Charlottesville, Virginia, he was a farmer who was constantly working to improve the productivity of his plantation, an architect who designed, redesigned, built and rebuilt his house with the labor of his enslaved servants, and a lover of books, wine, and food.
His enthusiasms drove him to create institutions. After the British burned the Library of Congress during the War of 1812, he sold the U.S. government his personal 6,000-volume library to create the foundation of a new Library of Congress collection. In 1818, he founded the University of Virginia in Charlottesville. FDR summed up his accomplishments nicely at the dedication of the Jefferson Memorial on Jefferson's birthday, April 13, 1943. Fun fact: both the Jefferson Memorial and National Archives were designed by architect John Russell Pope.
Jon Meacham has published two works about Thomas Jefferson: In the Hands of the People and The Art of Power.
---
Beginning a Dynasty
George Herbert Walker Bush served as the forty-first President of the United States from 1989 to 1993. He was Vice President under President Ronald Reagan from 1981 to 1989, when he was elected President in his own right.
Bush was born in Milton, Massachusetts in 1924, raised in Connecticut, and educated at Phillips Academy. When World War II started, he joined the Naval Reserve and served as a Navy pilot. After the war ended, he graduated from Yale and moved to Texas, where he started an oil company. His political career began when he was elected to the House of Representatives in 1967. He served two terms and was then appointed ambassador to the United Nations by President Richard Nixon. Gerald Ford, Nixon's successor, appointed Bush ambassador to China in 1974 and then director of the Central Intelligence Agency in 1976. In 1988, Bush defeated Democrat Michael Dukakis (a fellow Massachusetts native) in the presidential race.
His administration was known for landmark legislation like the Americans With Disabilities Act. At the bill signing, he remarked that "…every man, woman, and child with a disability can now pass through once-closed doors into a bright new era of equality, independence, and freedom." His experience as CIA Director also gave him a unique handle on foreign policy. Early in Bush's presidency, the U.S. led a coalition of nations during the now-famous Operation Desert Storm to drive Iraqi forces out of Kuwait. During the Gulf War, the President and First Lady shared Thanksgiving Dinner with the troops in Saudi Arabia.
Jon Meacham has published a book about him, Destiny and Power: The American Odyssey of George Herbert Walker Bush.
---

Records of Achievement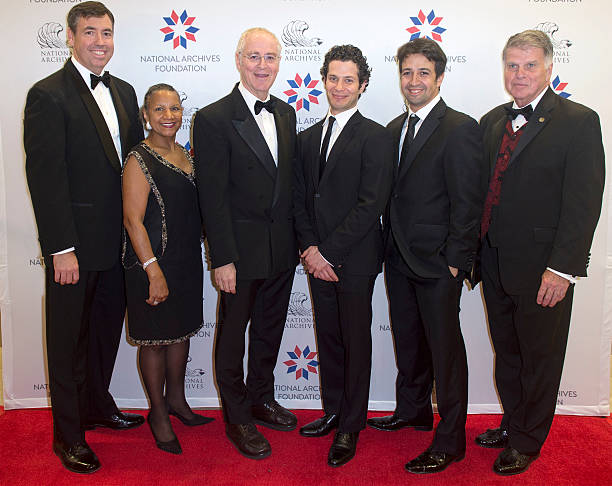 The National Archives' highest honor is the Records of Achievement Award, and it's given to someone whose work brings national attention to American history. Jon Meacham is an author and Presidential historian whose use of documents and interviews forms a deep connection between the reader and his subjects. For these achievements, he joins a long list of honorees.
Past winners include Cokie Roberts (2019), Laura Bush (2018), Tom Hanks (2017), Ron Chernow, Thomas Kail, and Lin-Manuel Miranda (2016), Taylor Branch (2015), Robert Edsel (2014), Steven Spielberg (2013), David M. Rubenstein (2011), Ken Burns (2010), Annette Gordon-Reed (2009), James McPherson (2008), John Hope Franklin (2007), Brian P. Lamb and C-SPAN (2006), Tom Brokaw (2005), and David McCullough (2004).
---
A Rare Occasion
Since the National Archives building was renovated in 2003, the bronze doors on its Constitution Avenue side are only opened twice a year – once on the fourth of July, and once during the Gala. Designed by architect John Russell Pope, the doors are 37 feet 7 inches tall, 10 feet wide, and 11 inches thick. At one time, they were the largest bronze doors in the world.
Since they lead directly into the Rotunda, they are routinely kept closed to protect the precious documents that lie just beyond the doors.
---
---