Archives Experience Newsletter - April 18, 2023
Language Preservation
After English and Spanish, American Sign Language (ASL) is the third-most spoken language in America, used by half a million people as a first language. ASL is a relatively new language in human history, but it emerged early in America at the beginning of the 19th century. As ASL surpassed lip reading as the dominant way to communicate, the deaf community flourished.
March 13 through April 15 is Deaf History Month, a time to observe the importance of accessibility and inclusion for the deaf, hard of hearing and those with hearing loss and of the preservation of ASL as a language. Come see the rich history of the deaf community in the National Archives…
In this issue
History Snack
---
A Family Tradition
Thomas Hopkins Gallaudet was born in Philadelphia, Pennsylvania, on December 10, 1787. At the age of 17, he graduated with a bachelor of science degree with highest honors from Yale University. He completed a master's degree at Yale in 1808, and then studied several other subjects, including theology. He finished a two-year degree at Andover Theological Seminary in 1814, and then he went to his parents' house in Hartford, Connecticut, to recuperate for a bit.
There, he met Alice Cogswell, the daughter of his neighbor, who was nine years old and deaf. Seeing that she was isolated from the other children in the neighborhood, Gallaudet began teaching Alice the names of objects. Her father, Dr. Mason Cogswell, was pleased with Gallaudet's patience and persistence with his daughter, and the next year, he invited Gallaudet to go to Europe with him and a group of his friends who were traveling to the Continent to study methods of teaching deaf children.
At the time, deaf educators were divided between teaching oral communication, meaning lip reading, or manual communication, meaning sign language. In Scotland, Gallaudet met with the Braidwood family, who had founded a school for the deaf that taught lip reading and articulation, but he wasn't impressed with the results of their curriculum.
Fortunately, while he was in Britain, he met Abbé Sicard, who was the head of the Institution Nationale des Sourds-Muets à Paris, and two of its faculty members, Laurent Clerc and Jean Massieu, who were also deaf. Sicard invited Gallaudet to come to Paris to study the school's method of teaching the deaf using manual communication. In Paris, Gallaudet studied pedagogy with Sicard and sign language with Massieu and Clerc.
Gallaudet then convinced Clerc to come back to America with him, where they joined forces with Dr. Cogswell and raised money to establish a school for the deaf in Hartford. Alice Cogswell was one of the first seven students to attend what eventually became known as the American School for the Deaf in 1817.
Clerc remained in Hartford to co-found the American Schools. He stayed onboard as a teacher for nearly 50 years, until his death in 1869. He is buried at Spring Grove Cemetery in Hartford.
---
Community Building
Thomas Gallaudet used what he had learned about manual communication in France to help develop American Sign Language (ASL), a method of manual communication that has become the predominant sign language used by members of deaf communities in English-speaking North America. ASL includes both manual and nonmanual elements, meaning movement of the torso and face as well as the hands. ASL is a visual language, and its grammar is not related to that of English. In fact, ASL has more similarities to spoken Japanese or Navajo than to English.
Thomas Gallaudet married one of his former students, Sophia Fowler, in 1851. They had eight children. Their youngest son, Edward Miner Gallaudet, went on to become the superintendent of the Columbia Institution for the Instruction of the Deaf and Dumb and the Blind in Washington, D.C., founded in 1856 by Amos Kendall to care for and teach indigent deaf and blind children. Over time, the school, which began as a primary school, expanded its course offerings until, in 1868-1869, it graduated its first three students with bachelor's degrees. In 1894, the collegiate division of the school was renamed Gallaudet University in honor of Edward Miner Gallaudet's father, Thomas Hopkins Gallaudet.
1/6 - Professor Edward Miner Gallaudet - National Archives Identifier: 527216
2/6 - Newspaper article: Founding of Gallaudet
4/6 - Gallaudet dormitory
5/6 - Aerial–Gallaudet campus
6/6 - Gallaudet students making surgical dressings
From its founding to this day, Gallaudet University's programs have been specifically designed to accommodate deaf and hard-of-hearing students. The university is officially bilingual—American Sign Language (ASL) and written English are used for instruction. In the classroom, only ASL is used—no English is spoken. Notable alumni of Gallaudet University include actor, professor and researcher Ben Bahan; linguist and professor Dorothy Casterline; actor James Caverly; Robert R. Davila, the ninth president of Gallaudet University; missionary Andrew Foster, the first self-identify Black deaf person who earned a bachelor's degree at the university; architect Olof Hanson; art historian Florence Lewis May; British poet and activist Dorothy Miles; professor of deaf culture studies Robert Panara; actress Shoshannah Stern; and George Veditz, teacher, American Sign Language filmmaker and preserver of American Sign Language.
1/4- Page 1 - Gallaudet Student Newspaper
2/4 - Page 2 - Gallaudet Student Newspaper
3/4 - Page 3 - Gallaudet Student Newspaper
4/4 - Page 4 - Gallaudet Student Newspaper
To view the text of a document or the full image, click on the image displayed above
---
Side-by-Side
After the founding of the American School for the Deaf in Hartford in 1817, many educators went there to study its methodologies and then spread across the country to open other schools for the deaf until every single state boasted such an institution. Many of those schools adopted ASL as their standard language, and consequently, ASL became the lingua franca of the deaf community in the United States. Although ASL does have regional variations and dialects, deaf people from different parts of the country and from Canada can usually understand one another when they are signing.
Despite early stigmas associated with the use of ASL, it has become increasingly accepted in mainstream society. Many colleges and universities now offer courses in ASL, and some even accept it as a foreign language. It is common now to see ASL interpreters working at briefings about weather disasters and more mundane things like presidential press conferences. Joe Biden is the first President to have a permanent ASL interpreter during press briefings.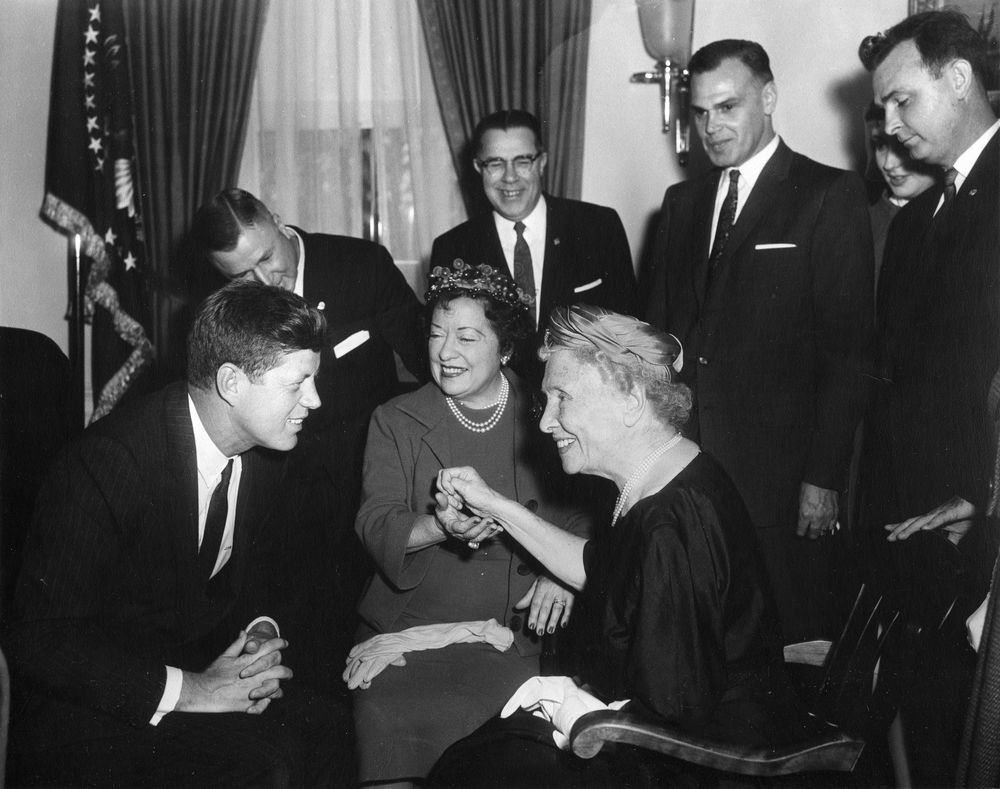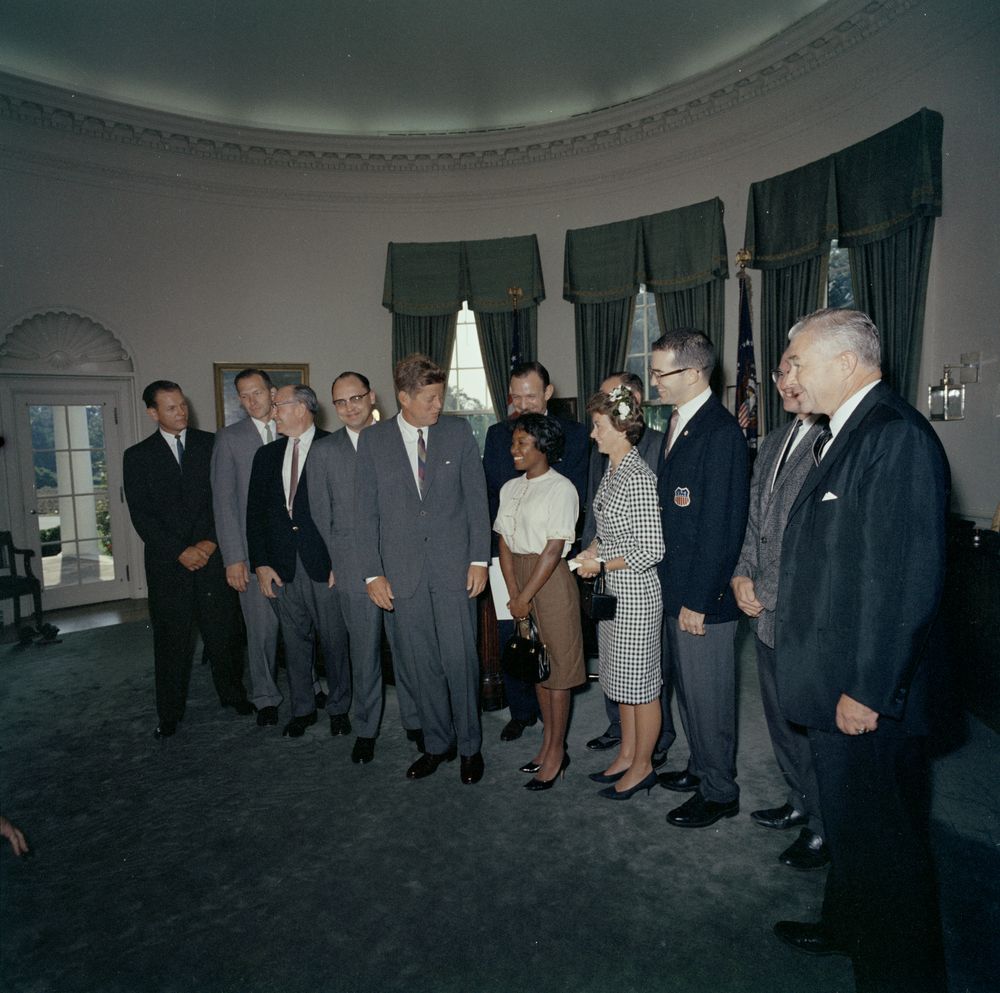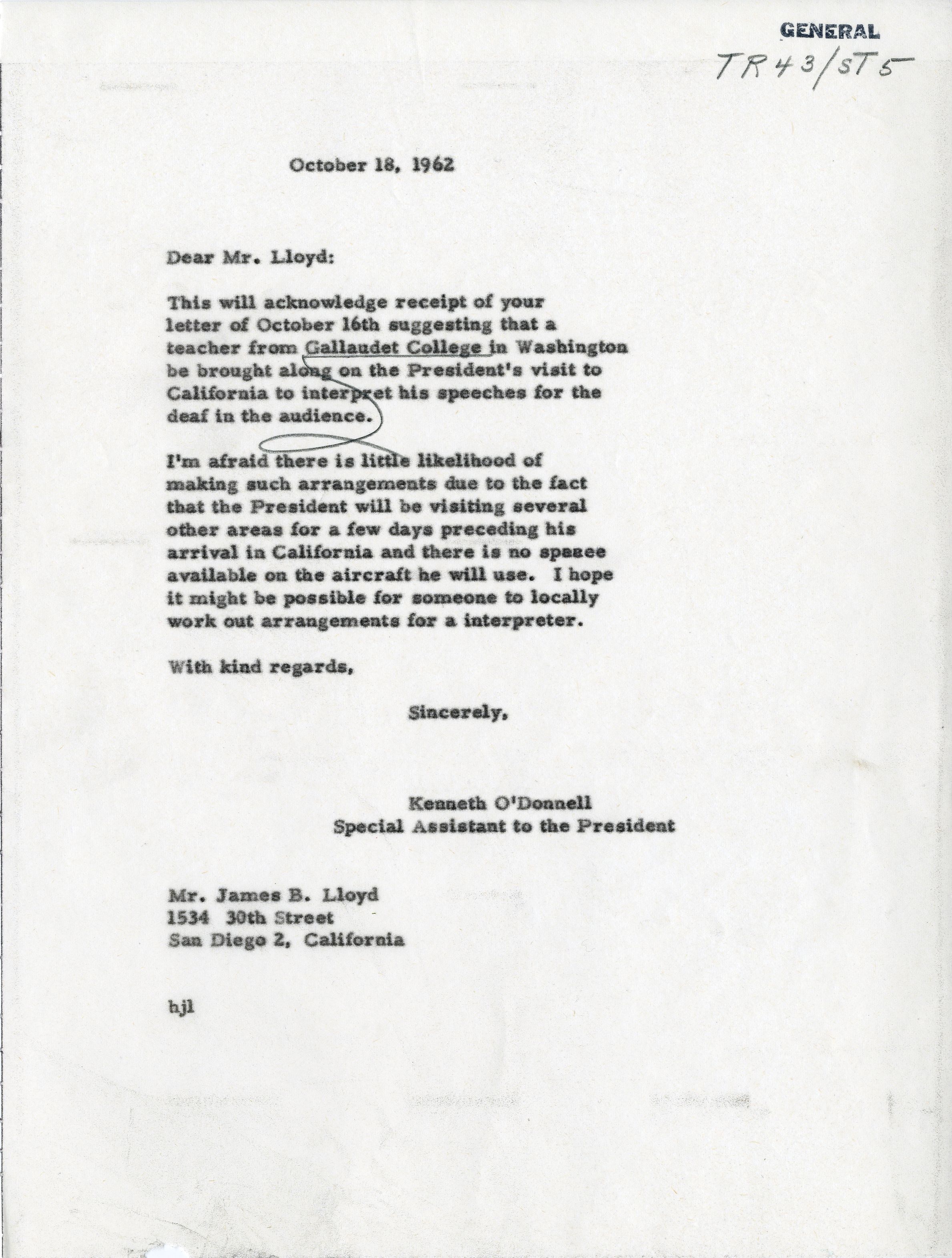 1/5- JFK meeting with Helen Keller
2/5 - JFK meeting with athletes from the "Deaflympics"
3/5 - ASL interpreters at Hurricane Sandy briefing
4/5 - Disaster Survivor Assistance Team ASL interpreters
4/5 - Letter-arrangements for an interpreter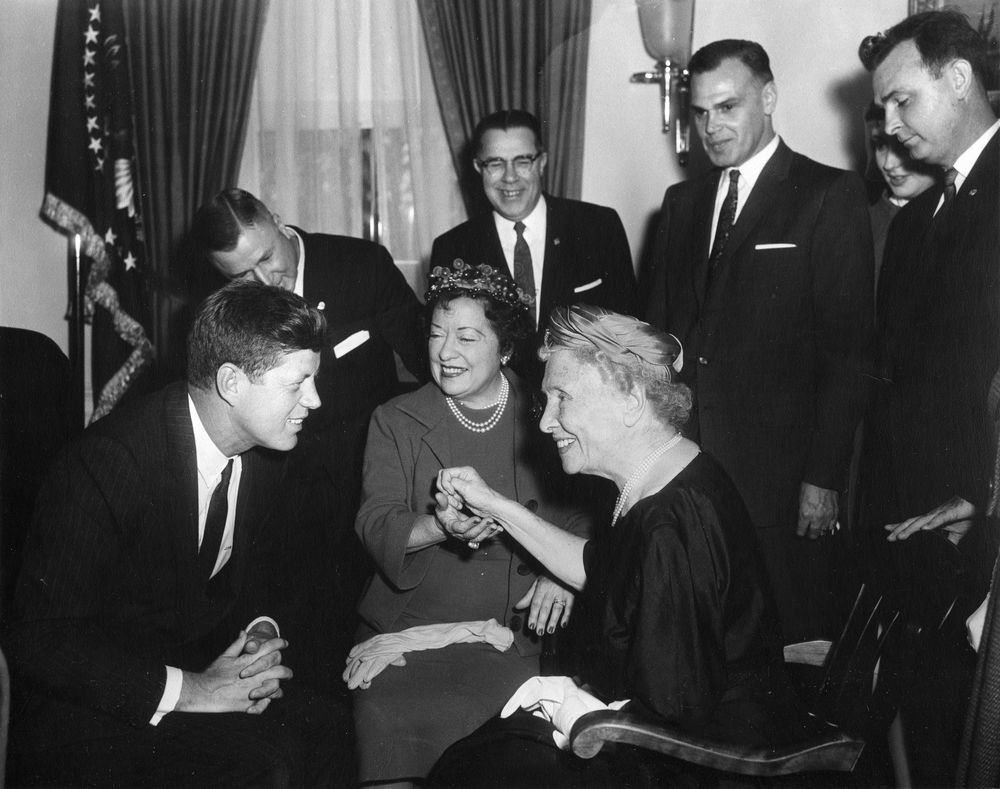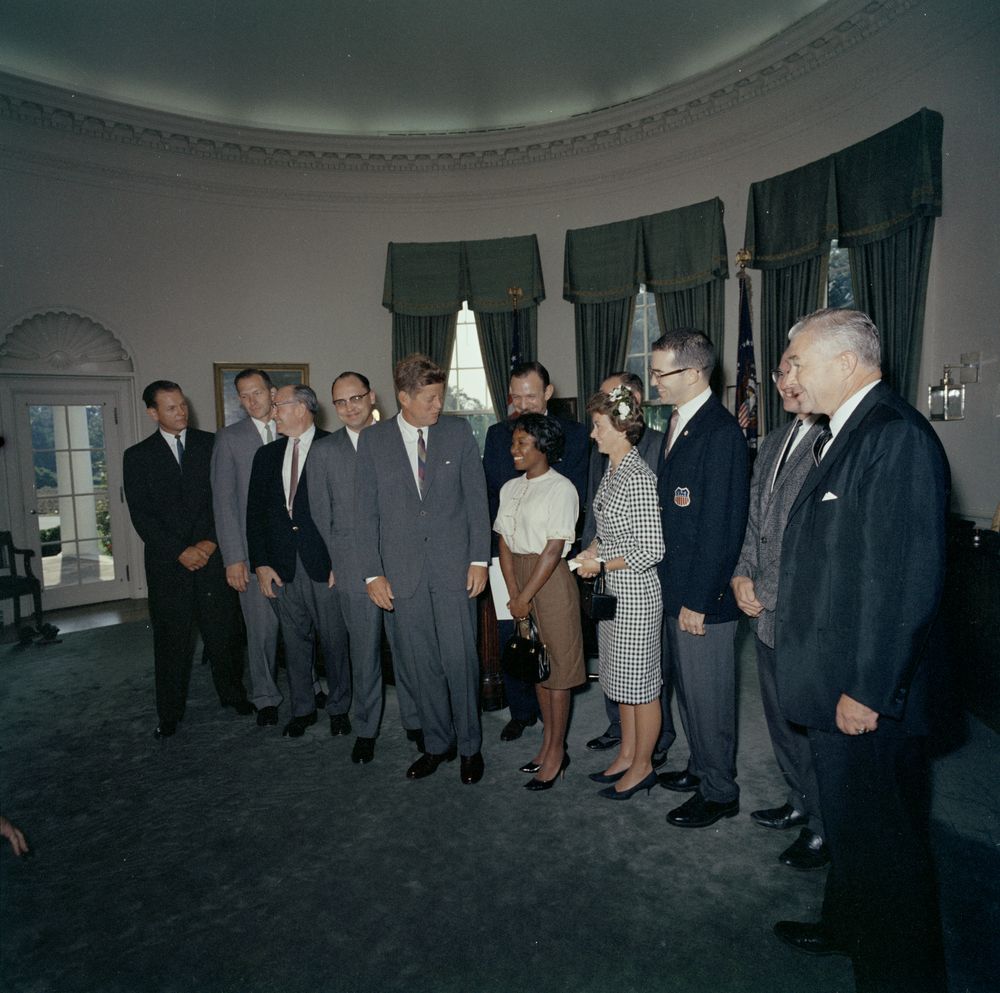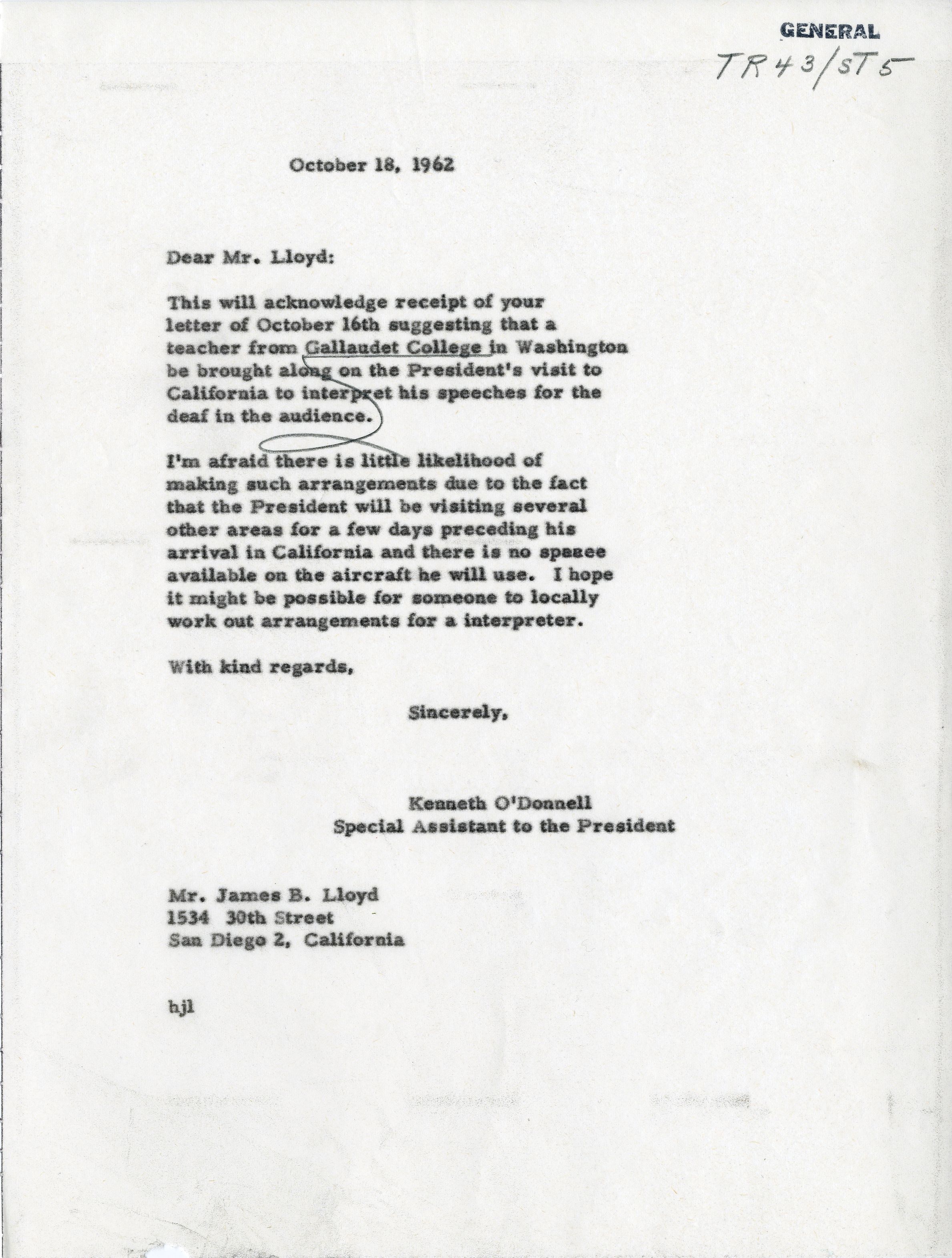 ---
---