Archives Experience Newsletter - April 19, 2022
Number 42
In ballparks across the United States reside the retired numbers of some of the greatest players of America's pastime. In Fenway Park, the numbers of Ted Williams and Carl Yastrzemski – 8 and 9 – are displayed. Numbers 2, 3, 4, and 5 will never again be worn on a Yankees jersey because they are the retired numbers of Derek Jeter, Babe Ruth, Lou Gehrig, and Joe DiMaggio. But only one number has been retired by all teams out of great respect: 42.
This was the number that Jackie Robinson wore, the man who broke the MLB's color barrier in 1947 when he signed with the Brooklyn Dodgers. Despite facing racist vitriol with each at bat, Robinson rose above the caustic environment, built bonds with his teammates, and became one of the greatest players in MLB history. Just two years after signing, he became his team's MVP. Shortly after his retirement, he was inducted into the Hall of Fame.
This April, we are celebrating the 75th anniversary of Jackie Robinson's historic role in the desegregation of the MLB. As the Archives' records show, Robinson was more than just an athlete – he was at the forefront of the Civil Rights movement well before his MLB career began, and he remained a fixture there long afterward. Take a journey through the National Archives' records that tell a fuller story of the life of Jackie Robinson than you may know.

Patrick Madden
Executive Director
National Archives Foundation
---
Breaking the Barrier
The man who broke the color line in professional baseball was born Jack Roosevelt Robinson in Cairo, Georgia, on January 31, 1919. His parents, Jerry Robinson and Mallie McGriff Robinson, had five children, of which Jackie was the youngest. The next year, Jerry Robinson left his family, and Mallie moved with the children to Pasadena, California. Although she worked many different jobs to support her family, the family lived in near poverty.
Jackie learned from a very young age that his athletic ability was an avenue to acceptance into the prominently white, affluent, and racist society of Pasadena. He lettered in four sports in high school—basketball, football, track, and baseball. He then enrolled in Pasadena Junior College, where he played the same four sports. After he graduated, he enrolled at the University of California, Los Angeles, and again lettered in the same four sports. At UCLA, he met Rachel Isum, whom he later married. One course short of graduation, Robinson dropped out of school and took a job with the National Youth Administration (NYA), Franklin D. Roosevelt's New Deal agency that provided education and work for young Americans. When the NYA stopped operating, Robinson went to Hawaii to play semi-pro football. He returned to Los Angeles in 1941 with plans to play professional football, but Japan's attack on Pearl Harbor put a stop to that plan. Robinson was drafted into the Army in 1942.
After he was discharged from the military, the Kansas City Monarchs, a professional baseball team in the Negro League, offered Robinson a contract. He played one season for the Monarchs before Branch Rickey, the club president and general manager of the Brooklyn Dodgers, secretly signed him to play for his team. One condition that Rickey insisted on was that Robinson had to promise not to respond to racial taunts. This was a huge issue for Robinson, who had barely escaped being court-martialed when he confronted his superior officers over segregated buses during his stint in the Army. He accepted this condition, however. On March 17, 1946, Jackie Robinson broke the color barrier when he took the field to play second base for the Montreal Royals, the minor league team affiliated with the Brooklyn Dodgers.
The First Time Jackie Robinson Broke Baseball's Color Barrier
A little over a year later, on April 15, 1947, he played first base for the Dodgers, becoming the first Black player in Major League Baseball.
Robinson faced immediate animosity on and off the field, in the press, and even in the Dodger clubhouse. He was jeered by spectators in the stands and roughed up by opposing players. However, several players on his own and opposing teams soon came to his defense, and as time passed and he proved his worth to his team, he won their respect and that of opposing players and coaches as well.
Jackie Robinson played ten seasons in the major leagues. He won the Rookie of the Year Award in 1947, the first year it was presented. He won the National League's Most Valuable Player Award in 1949, and he was an All-Star for six consecutive seasons. He also played in six World Series and was on the Dodgers' 1955 World Series championship team. He was an exceptional fielder, playing first base, second base, third base, and outfield over his ten-year career. He stole 197 bases, including home plate nineteen times.
Jackie Robinson retired from Major League Baseball on January 5, 1957, and accepted a position as vice president of Chock full O' Nuts, the first Black person to serve in such a position in a major American corporation.
Major League Baseball retired Jackie Robinson's uniform number 42 in 1997. On April 15 (or April 16 if a team has the 15th off) of every year, every player on every MLB team wears number 42 in honor of Jackie Robinson.
Read more about Jackie Robinson's career:
---
Civil Rights Starting Lineup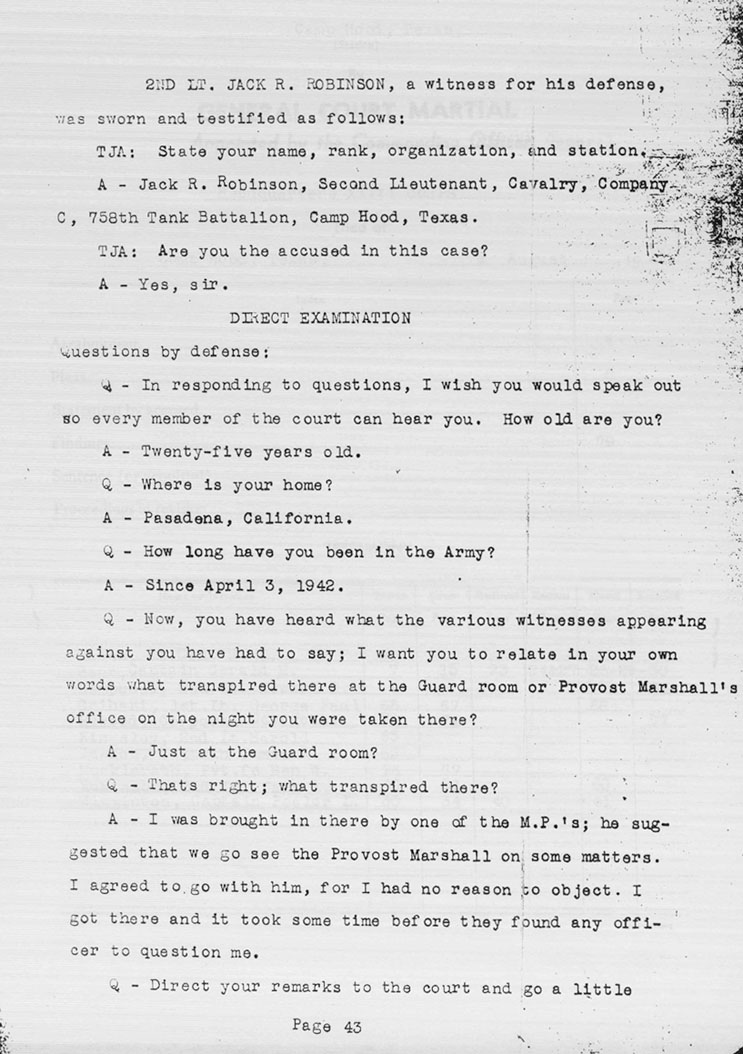 Jackie Robinson was drafted into the Army in 1942. He was assigned to a segregated Army cavalry unit in Fort Riley, Kansas. Along with several other Black soldiers, Robinson applied for Officer Candidate School at Fort Riley, but their applications were stalled until Joe Louis, the heavyweight boxing champion who was also stationed at Fort Riley, protested. The applicants were then accepted, and Robinson and Louis became friends. In January 1943, Robinson was commissioned as a second lieutenant. He was sent to Fort Hood, Texas, and he and Rachel Isum, whom he had met at UCLA, were engaged soon thereafter. (They married soon after Jackie signed with the Dodgers in 1946.)
On July 6, 1944, Robinson boarded a military shuttle. The civilian driver told Robinson to take a seat in the back of the bus, but Robinson refused, explaining that the War Department had recently desegregated its buses. The conflict escalated, and the driver called the MPs, who arrested Robinson. In the end, Robinson was court-martialed in August 1944, but he was acquitted by a panel of nine white officers.
Robinson was then transferred to Camp Breckinridge in Kentucky, where he met a soldier who had played for the Kansas City Monarchs of the Negro American League. The man encouraged Robinson to write to Monarchs co-owner Thomas Baird and ask for a tryout, which Robinson did. Robinson was honorably discharged from the Army in November 1944.
---
Striking out Injustice
In a conversation reported by Sports Illustrated magazine in 2016, Major League Baseball Hall of Fame Inductee Hank Aaron Robinson said that Jackie Robinson had told him, "the game of baseball is great, but the greatest thing is what you do after your career is over." After he retired from the sport in 1957, Robinson went full-tilt into civil rights advocacy. He entered the Greenville, South Carolina, airport whites-only waiting room in October 1959 and refused to leave when the police asked him to. The following year, after about 1,000 people marched on the airport in protest of the whites-only policy, it was revoked.
Jackie Robinson never let anyone off the hook if he thought they could do a better job of fighting social injustice (but he was quick to compliment those who did). He routinely wrote letters to Presidents, including John F. Kennedy, urging them to do more to correct racial inequities in the United States. When Major League Baseball celebrated the twentieth-fifth anniversary of Robinson's debut with the Brooklyn Dodgers at the second game of the 1972 World Series, he said, "I'm extremely proud and pleased to be here this afternoon. But I must admit, I'm going to be tremendously more pleased and more proud when I look at that third-base coaching line one day and see a black face managing in baseball."
One reason Robinson retired from baseball was because he had begun to experience debilitating symptoms of diabetes, which his three brothers also had. At the time, diabetes was poorly understood and difficult to treat. Despite undertaking an insulin regime, Jackie Robinson died of complications of heart disease and diabetes on October 24, 1972. He was fifty-three years old.
View more of Robinson's letters to presidents:
to Eisenhower
to LBJ
to Nixon
---
A Long Legacy
In 2014, an all-Black Little League team comprised mostly of players from the South Side of Chicago won the U.S. Little League Championship and went on to represent the United States in the Little League World Series. Although they lost the last game to South Korea, the Jackie Robinson West Little League All Stars had long since won the hearts of Americans all over the country.
On November 6, 2014, President Barack Obama and First Lady Michelle Obama welcomed the Jackie Robinson West All Stars to the White House for a celebratory visit. It was a historic meeting of the first Black President of the United States and the first all-Black U.S. Little League Championship Team.
---
Batting Next: POTUS!
During their visit with President and Mrs. Obama, the Jackie Robinson West Little League All Star Team presented them with a baseball mitt. Be sure to note that the mitt is clearly marked with the President's nickname: POTUS!
---