Archives Experience Newsletter - March 2, 2021
Shrinking the Glass Ceiling
Welcome to Women's History Month! The National Archives and the National Archives Foundation celebrate the strength and tenacity of women. The Archives brought that to life most recently in 2019 with its Rightfully Hers: American Women and the Vote exhibition commemorating the 100th anniversary of the ratification of the 19th Amendment and the long fight for women's suffrage.
The exhibition was just the start! The National Archives Foundation has launched the Rightfully Hers Fund to support the Foundation's mission and provide vital funding for research, public programs, exhibitions, and educational materials on women's history and rights as found in the National Archives' records.
Will you help us get this Fund off the ground with a donation today?
We've recently added a few new mile markers on the path of women's history, from Kamala Harris' inauguration as the first female Vice President of the United States to First Lady Jill Biden's intention to be the first woman in her position to hold a paying job. This week's newsletter highlights some of women's accomplishments and achievements throughout our history. What's next?
Patrick Madden
Executive Director
National Archives Foundation
P.S. Women keep breaking barriers. Our conversation and celebration of women's history continues – join us by registering for one of our programs!
---
The WASPs
Jacqueline Cochrane was an entrepreneur who created a cosmetics company from the ground up in the mid-1930s. But she was also a convert to private aviation, smitten with flying from the first time she went airborne as a passenger. She got her pilot's license and flew from place to place promoting her cosmetics. She was also an avid air racer and a good friend of many prominent pilots, including Tex Rankin, Roscoe Turner, and Amelia Earhart.
But it was during World War II that Jacqueline Cochrane introduced her most far-reaching innovation. In 1941, she proposed to the U.S. Army Air Corps (the predecessor of the U.S. Air Force) the recruitment of a group of women who would fly an aircraft from where they were located to where they were needed. The corps declined her offer, so she went to Britain and created the same type of organization for the Royal Air Force. She recruited many women pilots from the United States to fly for the RAF.
When the United States entered the war after the bombing of Pearl Harbor, the Air Corps asked Cochrane to come back to the U.S. and lead a training program for women pilots. The Women's Airforce Service Pilots (WASPs) eventually included over a thousand women who ferried airplanes from place to place and even flew experimental aircrafts.
When the war ended, the WASPs were dissolved to make way for male pilots returning from overseas. Cochrane became close friends with Dwight D. Eisenhower, supporting his political campaigns and hosting him at her ranch in California. The Dwight D. Eisenhower Presidential Library, Museum & Boyhood Home has in its holdings many documents about Jacqueline Cochrane and the WASPs.
---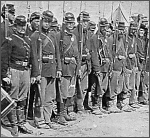 Mathew Brady (1822-1896) was the preeminent photographer of the U.S. Civil War. He used a mobile studio and darkroom to produce photographs of soldiers, camp life, and the aftermath of battles that brought the stark realities of war to people elsewhere. Sadly, the commercial value he was anticipating to gain from his photographs never materialized, and Brady died penniless.
In 1936, the National Archives hired Josephine Cobb, who eventually became the head of the Still Photo Section. She was fascinated by Brady's Civil War photographs and devoted herself to studying them. In 1952, she identified President Abraham Lincoln in one of Brady's photographs of Gettysburg on the day the president gave his famous "Gettysburg Address." Hers is a seminal discovery that reaffirms the importance of Mathew Brady's contribution to the preservation and interpretation of Civil War History.
---
From Adventure-Seeker to Serious Scientist
At a time when few women were actively exploring the ends of the Earth, Louise Arner Boyd was an avid explorer of the Arctic. A wealthy woman from San Rafael, California, she did not see the region until she was in her thirties, but it appears to have been love at first sight. Her first trip was a hunting expedition, but she very quickly became a serious and highly respected explorer. She returned to the Arctic again and again, leading excursions in search of the lost explorer Roald Amundsen, documenting the coastline of Greenland, and investigating, on behalf of the U.S. government, whether an airfield could be constructed at Baffin Island just before World War II began.
Boyd self-financed seven Arctic expeditions, published three books of photographs of the region, and chartered the first private flyover of the North Pole. She also personally shot thousands of feet of film documenting her expeditions. The National Archives is the repository of 150 reels of 35mm film that Boyd shot of her travels to the Arctic.
---

Mrs. President
Several women of wildly varying political persuasions have run for President of the United States, but the first to do so was Victoria Woodhull. And by all accounts, she was a handful. A spiritualist who claimed to be clairvoyant, a eugenicist, a suffragist, and an advocate for labor reform, Woodhull ran for president in the 1872 election. She chose as her vice presidential running mate the famed abolitionist Frederick Douglass, apparently without consulting him. She of course did not win the election, but she ruffled a lot of feathers during her campaign.
She was also an advocate of "free love," although what she meant by that is a lot less radical than one might assume. Married and a mother at a very young age, Woodhull divorced her first husband because he was an alcoholic and a womanizer. When she spoke of "free love," she was advocating the rights of women to marry, divorce, and have children without any social or government strictures.
In 2016, the John F. Kennedy Presidential Library and Museum, hosted a forum with author Ellen Fitzpatrick about her book "The Highest Glass Ceiling: Women's Quest for the American Presidency," in which she discusses the presidential campaigns of Woodhull, Margaret Chase Smith in 1964, and Shirley Chisholm in 1972.
---
One Giant Leap
Mae Jemison is used to wearing many different hats. A Peace Corps volunteer, an engineer, a physician, a teacher, and the founder of a nonprofit and a technology company, she was the first African American woman admitted to NASA's space training program and the first to fly into space on the space shuttle "Endeavor." In all, she logged more than 190 hours in space before she retired in 1993.
She went on to found the Jemison Group, a consulting company that advocates for science, technology and social change, and the Dorothy Jemison Foundation for Excellence, which is dedicated to helping young people reach their full potential and is named for her mother. She even appeared in an episode of "Star Trek: The Next Generation!"
---
---